Irish-News-October-2022
Article By Kathryn Johnston - Photography by Kathryn Johnston
Irish News October 2022
Northern Ireland Alliance Party Councillor is victim of homophobic attack.
Balmoral councillor and LGBTQ+ activist Micky Murray was targeted while on a night out in the city on Friday.
And his Alliance Party leader, Naomi Long, has described the attack as 'utterly sickening'.
The attack was described as homophobic in a social media post by a friend of the councillor, who received hospital treatment afterwards.
In a tweet on Saturday, Mr Murray thanked those who offered support during his ordeal.
Thanks for all the messages. I'm doing okay, and feeling very loved, he wrote.
Mr Murray, who was co-opted onto Belfast City Council in June to replace party colleague and MLA Kate Nicholl, said he received a "couple of stitches" following the assault.
He added: "Huge thanks to all the staff at the Mater Hospital who took really good care of me and supplied me with tea."
Naomi Long wrote in a tweet to her colleague that she was "sending lots of love", adding: "Utterly sickening that these kind of attacks are still happening."
Others to wish Mr Murray well included South Belfast SDLP MLA Matthew O'Toole, who said in a post he was "completely disgusted and infuriated this happened in 2022".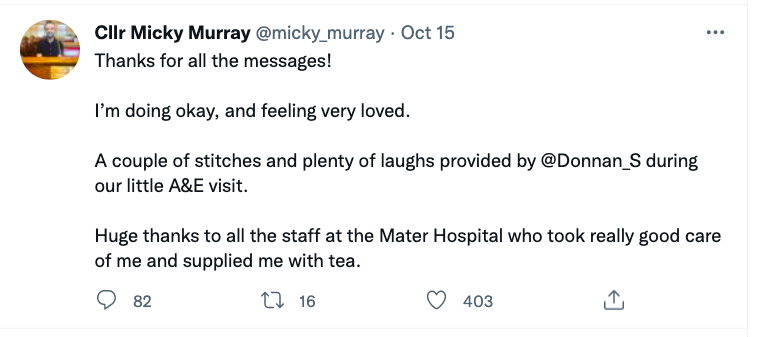 Young LGBTQI+ people 'nearly twice as likely' to meet hate speech online
And in the wake of the horrific attack on Cllr Micky Murray, it has been revealed that more than two-thirds of young people have experienced bullying and harassment online or viewed distressing content, with young LGBTQI+ people nearly twice as likely to experience hate online, new research shows.
The annual Digital Youth Index study, carried out by internet firm Nominet found that 69% of young people aged between eight and 25 said they had seen distressing content online, with Reddit, Twitter, TikTok and Tumblr named as the most common places to see it.
The research found that minority groups were the most vulnerable to negative content online – finding that the LGBTQI+ community was nearly twice as likely (52%) to experience hate speech online compared to those who identify as heterosexual (26%).
The feeling that being online had had a negative impact on them was also higher among LGBTQI+ people, as well as among those with a mental health condition.
26% of all those surveyed had experienced violence online, 23% had seen abuse or trolling and a further 23% had encountered sexual content.
Three in ten young people also said that their sleep had been negatively impacted by the internet and digital devices.
In contrast, 53% said they felt that being online had a positive impact on their relationships with friends – although more than one in four said they would like to spend less time on their devices.
The study also examined digital skills and the access young people had to technology, finding that more than half of those surveyed believe they have to teach themselves essential digital skills – 20% said they felt they had received good foundational training from school around the digital world.
And figures recently released by the Police Service of Northern Ireland (PSNI) show that hate crime has risen in almost all categories across Northern Ireland within the last year.
The most recent numbers published in August show a rise in the number of crimes recorded across five of the six hate motivations — race, gender identity, sexual orientation, disability and faith/religion — over the last year.
Police define a hate crime or incident as a person "targeted based on their disability, gender identity, race, religion and sexual orientation adding it can take many forms such as physical and verbal attacks, alongside vandalism and online abuse."
The data finds that between July 1 2021 and June 30 2022 there were 155 more racist incidents and 56 more racist crimes recorded, homophobic incidents increased from 383 to 465 and crimes increased from 264 to 331 and disability incidents increased from 112 to 129 and crimes rose from 75 to 104.
Hate crimes and incidents recorded under disability motivation are now the highest they have ever been in Northern Ireland since data recording began in 2005.
Statistics also showed incidents recorded under faith/religion rose from 49 to 62 and crimes increased from 37 to 50 while transphobic incidents increased from 71 to 75, and the number of transphobic crimes rose from 34 to 41.
Plaque and tree dedicated to LGSM founder Mark Ashton in Derry
An emotive memorial saw a tree planted for LGBTQ+ activist Mark Ashton from Portrush in Co Antrim Northern Ireland last month. Mark co-founded Lesbians and Gays Support the Miners (LGSM) in the 1980s and was a central character in the movie Pride. The ceremony was held in Derry's St Columb's Park as part of Foyle Pride 2022 events and was attended by
organiser Sha Gillespie, Mark Ashton plaque campaigner Jude Copeland , playwright Micheal Kerrigan and Bernadette McAliskey, as well as LGSM co-founder Mike Jackson who travelled to Derry to pay tribute to his late friend.
Mike Jackson said: "We have memorials to Mark in Paris, Barcelona, London, Belfast and now in Derry. But Portrush is the goal, that is where he grew up and found influence in his life. Mark died on February 11 1987. At that time LGBT people had no legal rights whatsoever.
"If Mark was alive he would be speaking to you today, he loved the limelight. He would be amazed at the progress of the LGBT movement. He would be proud of the achievement of equal marriage. He would be amazed to see Derry celebrating Pride yesterday, particularly the young people marching.
"Sadly, he is not here and we are here picking up the baton that he left for us. Keep on fighting, no matter what the odds are. The prize is a world free from hate where everyone lives with dignity, love and a mutual respect no matter your sexuality, gender or race."
Campaigner Jude Copeland has been fighting for a plaque in memory of Mark Ashton to be erected in his home town of Portrush.
He said: "I did not know Mark Ashton. I watched the film, Pride, with Mike Jackson in a pub in East London at a fundraising event. The reason I started this campaign was because Dave, another member of the LGSM, said to me 'it is really lovely hearing that accent again', thinking about Mark Ashton.
In June last year, Causeway Coast and Glens Borough Council announced that they would consult with the family and friends of gay rights campaigner Mark Ashton about how to remember him in his hometown of Portrush.
Councillors formally approved the erection of a memorial or a blue plaque in the County Antrim town.
Jude Copeland added: "Mark lived here for 18 of his 26 years of life.
"When he left here, in 1978, it was still illegal to be gay in Northern Ireland. Much has changed here since he left.
"This plaque will be an important part of our history, part of Northern Ireland's centenary and it is fitting that this is happening at the beginning of pride month."
Mr Copeland said Mr Ashton's life had inspired many people.
"His legacy transcends nationality or politics - he was about helping people who need help, when faced with bitterness and prejudice," he said.
"There are lessons that we can take from Mark's life - you don't have to have anything in common with a person to help them when they are in need."
"One thing that is important for me is that the anniversary of his death was also the date of the first same sex marriage, and I wondered what Mark would have thought. The reason I think Mark is such a role model for today is that he thought of other vilified minorities. If Mark was here he would be thinking of who are the equivalent of the miners today."
Well known civil rights campaigner Bernadette McAliskey said: "I think this is an important day for all of us, to remember a young man who was one of us. One of the most important things that his message of solidarity teaches us is that standing out in the street and convincing people to donate to the miners strike while you're likely to be insulted was not easy.
"To take your personal self into danger of insult and assault in order to persuade people to at least understand what was happening to families who could not afford food is a bit that cannot be forgotten. It is important for us to remember him in this way."
Mark Ashton was born in Oldham, and moved to Portrush, County Antrim, Northern Ireland, where he grew up. He moved to London in 1978.
His friend the Reverend Richard Coles wrote about this period: "Mark also worked for a while as a barman at the Conservative Club in King's Cross, or, rather, as a barmaid, in drag, with a blonde beehive wig. I was never sure if the patrons worked out that he was really a man".
In 1982 he volunteered with the London Lesbian and Gay Switchboard, supported the Campaign for Nuclear Disarmament and joined the Young Communist League. In 1983 he featured in the Lesbian and Gay Youth Video Project film Framed Youth: The Revenge of the Teenage Perverts, an early documentary that won the Grierson Award 1984 for Best Documentary.
He formed, with his friend Mike Jackson, the Lesbians and Gays Support the Miners (LGSM) support group after the two men collected donations for the miners on strike at the 1984 Lesbian and Gay Pride march in London. The group was formed in Ashton's flat in Claydon House on the Heygate Estate, Elephant and Castle.
After LGSM, he became involved in the Red Wedge collective and became the General Secretary of the Young Communist League from 1985 to 1986.
Diagnosed with HIV/AIDS, Ashton was admitted to Guy's Hospital on 30 January 1987 and died 12 days later of Pneumocystis pneumonia. His death prompted a significant response from the gay community, particularly in publication and attendance at his funeral at Lambeth Cemetery.
The ballad "For a Friend" in the album Red from synth-pop duo The Communards was written in his memory. Mark Hooper of The Rough Guide to Rock writes that this cut may be Somerville's "most impassioned moment". Ashton was a friend of both Jimmy Somerville and Richard Coles. For a Friend reached number 28 on the British charts.
The LGSM's activities were dramatised in Pride, a film released in September 2014 featuring Ben Schnetzer as Ashton. Ashton's role in the Lesbians and Gays Support the Miners group was recalled in a series of interviews with some of its other members prior to the film's release. However, Ashton's membership in the Young Communist League was not explicitly mentioned in the film, possibly to avoid alienating American audiences. Fellow communist activist and a close friend of Mark Ashton, Lorraine Douglas, accused the film of having "glossed over Mark's politics and said nothing about the fact he subsequently became General Secretary of the YCL", the youth wing of the Communist Party of Great Britain.
The full Derry ceremony in memory of Mark Ashton is available to view
here: https://www.youtube.com/watch?v=r5SsiLa6XAE
https://www.imdb.com/title/tt3169706/
Concerns for same sex marriage and abortion rights in NI after Therese Coffey appointed new Tory Health Secretary
New Tory Health Secretary Therese Coffey's voting record on same sex marriage and abortion has raised concerns for rights in Northern Ireland and is news that will alarm LGBTQ+ people and pro choice activists.
Coffey, who served as work and pensions secretary under Boris Johnson, was named deputy prime minister in Truss' cabinet last Month.
Her closeness to Truss was underlined by the fact that Coffey was the first appointment to the new cabinet.
She will now find herself at the centre of political decision-making.
She told journalists that she was "very excited" by her appointment – a sentiment likely not shared by many LGBTQ+ people.
Throughout her political career, Coffey has repeatedly voted against LGBTQ+ rights, and she's made it clear she hasn't changed her perspective whatsoever.
Coffey voted against same-sex marriage in 2013.
But what is worse is that Coffey was part of a group of 15 MPs who urged the House of Lords to block same-sex marriage after the House of Commons voted in its favour in 2013. Writing at the time, Coffey said the government was trying to "redefine marriage" without a mandate.
"Genuine concerns about the impact on society's understanding of marriage and the bill's implications for free speech and civil liberty have been swept aside," she said at the time.
In 2019 she voted against extending marriage rights to queer couples in Northern Ireland.
Coffey has a lengthy record of opposing social changes that could better the lives of LGBTQ+ people. She has stated her opposition to mandatory sex and relationships education in schools and has suggested parents should be allowed to withdraw their children from lessons where they see fit.
And in June, following the US Supreme Court's decision to overturn Roe v Wade ruling giving the right to abortion, Coffey said she would prefer that women "didn't have abortions" but said she would not "condemn people that do".
Liz Truss' health secretary Thérèse Coffey is a staunch social conservative.
Over the years, she has defended her position on same-sex marriage, citing her religious beliefs. In 2012, she told a Twitter user: "I believe family is the main purpose of marriage".
Coffey emerged as one of Boris Johnson's staunchest supporters during his premiership – she repeatedly defended him against partygate-related criticisms, and she was one of the many ministers who came to his aid when he stood accused of turning a blind eye to sexual misconduct accusations against Chris Pincher.
Like Johnson, the cigar smoking MP is no stranger to controversy – she faced criticism in 2016 when it emerged she had been given free trips from bookmaker Ladbrokes to go to horse racing events.
Once Johnson finally resigned, she threw her support full force behind Liz Truss to succeed him.
Coffey is "little known to the wider public" but is thought to be one of Truss' closest friends in politics.
NI women's football team captain ties knot with new wife
Northern Ireland women's captain Marissa Callaghan has tied the knot with her long-term partner Paula Reed.
The Cliftonville player (37) got married on Friday before getting wedding pictures taken at her home ground of Solitude in north Belfast.
Later that evening Cliftonville Ladies had to do without Marissa when they beat Linfield Ladies 7-1 to progress to the Electric Ireland Women's Challenge Cup semi-finals.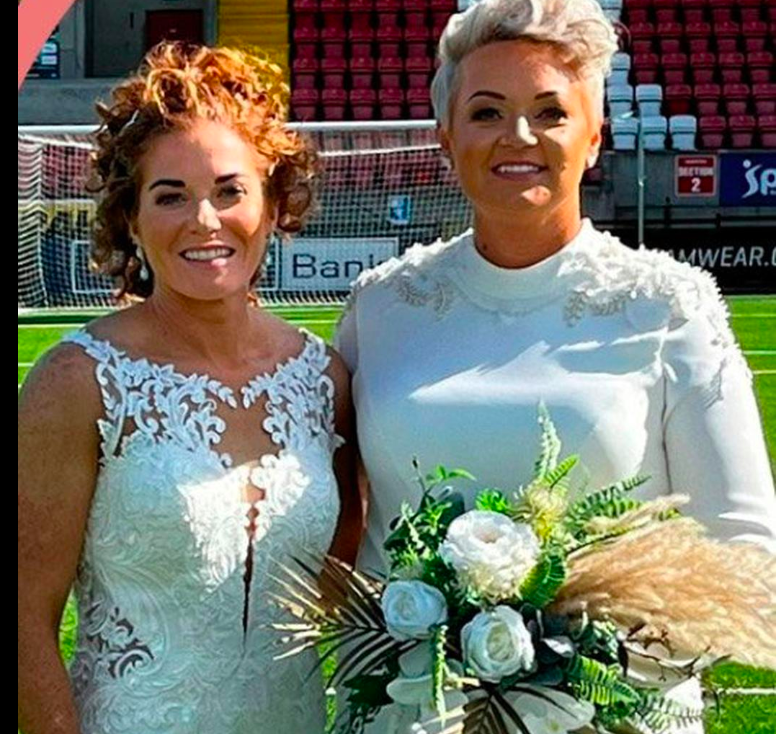 Earlier this year, before her team headed off to Euro 2022, Marissa revealed how she first met her bride Paula, with whom she has a toddler son Quinn, at a coaching session at Carmoney Ladies football team.
"Paula was helping out with the youngsters and I was up there coaching at a wee after-schools programme," Marissa said. "I remember running in late and she was there. Paula always slags me that I was a bit rude — that was our first-ever meeting. I thought she was one of the kids' parents."
She told the Belfast Telegraph that they later met in the Union Street Bar in Belfast city centre.
"I was going to the toilet and Paula was sitting there with her sister and her friend and we were just chatting. She'd just done the marathon that day and was going to the Canary Islands for a week.
"The next time was at a Cliftonville Ladies game and she texted me after the game. So we started to text but it was more like a friendship thing.
"We'd go for a coffee or an ice-cream. I'd just broken up with someone so it was something I didn't know if I wanted to get involved again. So it was really slow. Like, really slow!
"And then we eventually had our first date. It was a Bruno Mars concert. My mummy and me were supposed to go but she was sick. So I called Paula to go and that was our first proper date."
Almost three years ago Paula gave birth to their son Quinn.
Marissa, from the Falls Road in west Belfast, explained: "It was all planned. Paula wanted to carry. I can't say it was something I always wanted to do – carry a baby. But when Paula turned 33 we decided to try IVF and four attempts later…
"Quinn could buy and sell you. He's just so loveable."
Earlier this month she captained the NI team which beat Latvia 3-1 in their World Cup qualifier in Jurmala two weeks ago.
Northern Ireland failed to progress to the World Cup finals and were locked into a third-place finish behind Euro 2022 winners England and Austria, but the win secured a record points tally of 19 in a qualification campaign.
belfasttelegraph.co.uk article